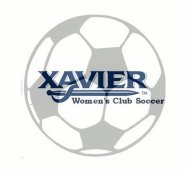 Xavier ladies Club Soccer is underway and now we are off to a great start in the 2015-2016 period. Games this autumn includes Dayton, Miami, Cincinnati, Kent State, Wright State, Ohio State among others. Our main season is in the autumn and we also vie against various other groups from throughout the Midwest. We in addition perform friendly games inside springtime against local teams or teams we may not need had a chance to play against into the fall.
Practices for Fall 2015:
-Monday 9-11 PM (unless otherwise noted)
-Wednesday 9:30-11:30 PM (unless otherwise noted)
@ XU Stadium
Throughout 2015-16:
Indoor Games: the past several years during the cold winter, we have developed in indoor group and play at Wall2Wall in Mason, Ohio. Just last year, KappaKappaSocca won the Women's Tuesday evening unit. They are played every Tuesday evening.
Service Hours: As a team, XUWCS is involved with several activities in our college and our neighborhood Those include, Community Action Day, Breast Cancer Awareness Month, Relay forever, and Top Soccer.
Team Bonding: Aside from training and solution, XUWCS get together throughout every season for old-fashioned group bonding which include BBQ's, bonfires, research sessions and going to various other club sport tournaments.
For updates on activities, games, methods and more, Follow united states!