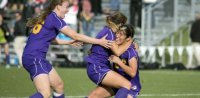 Skylar Rolstad | NCAA.com
The last time Williams women's soccer coach Michelyne Pinard took her team to Swope Soccer Village in Kansas City, Mo., the Ephs lost in a penalty shootout to Lynchburg in the Division III national championship.
But this time, Pinard's team found its revenge and dominated the Washington-St. Louis Bears to a 1-0 win. The win is Williams' first ever national championship in soccer and 34th in all sports.
"It's an amazing moment for our program, " Pinard said. "And it's an amazing moment for women's sports at Williams. A team championship is hard to come by."
The win is the realization of a long-held dream for the 39-year-old Pinard; one that took much longer to achieve than she had originally believed.
"When I first arrived at Williams at the age of 25 I had a dream, a goal, a vision, a hope that I would win a national championship by the time I was 30, " Pinard said.
RELATED: Box Score | Bracket
"I was young and naïve and realized soon enough that winning a national championship is really hard, " Pinard added. "We've been working hard at this for a really long time."
Williams claimed the goal that would prove to be the winner in the 43rd minute when junior midfielder Crystal Lewin played a long pass on the ground toward past a defender for freshman forward Kristina Alvarado to run onto. Alvarado finished past Wash. U. goalkeeper Lizzy Crist at the far post for the lead.
"Running onto the ball in the past, I've been nervous getting onto it and this particular time I had this feeling like 'I can do this, '" Alvarado said. "All our hard work led me to putting it in the net with ease."
Junior midfielder Mai Mistuyama played in last season's national championship. She said the loss motivated her team to battle back to the same place.
"As soon as we lost, everyone was like, 'we can get back to this point, '" Mistuyama said. "From then on, we spent all our time and energy focusing on how we can get back to the national championship. It's just a weight off our shoulders to know that we worked so hard to get here and that it paid off."
Although Williams came away from the game with eight shots on goal to Washington's two, the Ephs did not always look like champions, especially in the first ten minutes.
In the first four mintues, Wash. U. had already come close to scoring and hit the crossbar twice. Bears forward Katie Chandler sent a shot off the underside of the crossbar in the 4th minute which was cleared off the goal line by Williams defender Hanna Kaeser.