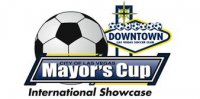 Las Vegas Mayor's Cup Global Showcase 2016
Feb 13-15, 2016

Overseas Youth Soccer Tournament for Boys & Girls U12-19 February 13-15, 2016.
The City of nevada Mayor's Cup Global Showcase, is Co-Hosted because of the City of Las Vegas and Downtown vegas Soccer Club.
The Showcase competition is the opportunity for teams to try out before college coaches and employers from around the nation. The event are going to be offered to Boys & women, U12 to U19. All groups tend to be fully guaranteed at least 4 games. Individual honors could be offered for first and 2nd Place. The entry cost is just $1195. Entry due date for local teams will be December 4, 2015. Entry due date for groups taking a trip from out of town is December 31, 2015.
This event is played on the World-Class industries built solely for soccer by the City of nevada. Its held throughout the President's Day week-end. Typical Temperatures were 64F in 2015. Las vegas, nevada has actually exceedingly easy and affordable airport accessibility from all the United States Of America, and provides a complete array of Hotel/Motel possibilities.
The Mayor's Cup is a "Stay & Enjoy" Tournament. All groups have to book resort rooms through SPORTS TEAMS ACCOMMODATIONS. Sports Teams Accomodations has negotiated special discounted rates for all going to groups for motels at most price points. Unlike various other vegas Tournaments, neither LV Mayor's Cup nor Sports Teams Accomodations "Mark Up" hotel rates into participating teams. Sports Teams Accomodations guarantees the best advertised group space rate designed for the times for the LV Mayor's Cup.
Minimal Entry costs, Strong competitors, Great climate, Manicured areas, inexpensive rooms, and Economical routes, hopefully you take into account the City of nevada Mayor's Cup Global Showcase for the huge spring tournament.