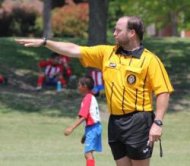 All referees in PYSA undergo a formal education and development process coordinated because of the Plano Youth Soccer Referee Committee.
Aspiring referees are required to finish referee training sponsored by the North Texas State Soccer Association and its affiliates. The bottom, Grade 8, course includes 16-1/2 hours or classroom instruction and area sessions. Students must pass a referee certification test with a score of 75% or better.
The Referee Committee supports a mentoring and evaluation program in which senior referees and assessors monitor and instruct referees each week-end throughout the season. Assessors determine whether referees will be ready to move to the "next amount" of games.
Coaches are invited and advised to guage the performance of all of the PYSA referees for all league games. These Referee Evaluations go directly to the Referee Committee and serve as comments indicating which referees are doing really and that might require more training or mentoring.
Typically new referees will start with more youthful leisure games, and work their means through the ranks to higher amount games.
Senior officials must complete an annual physical assessment to make certain their physical fitness to cover high-level games.
Every year, all referees are required to pass a recertification test as a refresher to knowing the rules associated with Game. PYSA employs JUST officials that currently subscribed and certified through NTSSA, United States Soccer, and FIFA.