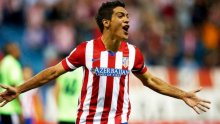 Photos: DAVIDROMEROVARA | alanthecharmer | NenisMPineda | SomosInvictos | FCTtoday | UtdIndonesiaMJK | ladocecommx | Twitter
Mexico's best and brightest often leave Liga MX to test themselves in the best leagues around the world. Here are 10 players that stand above the rest.
For all his faults and at times spotty form, Guillermo Ochoa is still hands-down Mexico's best keeper. His club form has never really matched the consistency with which he performs for El Tri, but that is more an indication of just how good he has been for Mexico than anything else. One of our defining memories of this past summer's World Cup in Brazil is of the announcer yelling "OCHOA!!!" after he had, yet again, saved a shot that he had no right to save.
9. Raul Jimenez - Atletico Madrid
Jimenez is in a difficult situation. At 23, he is young and needs playing time to improve, but he has to compete for said playing time with Antoine Griezmann, Mario Mandzukic, and a reinvigorated Fernando Torres. Unsurprisingly, he has only made 10 appearances this season, with only three of them being starts. He has managed to score one goal in that time.
8. Miguel Layun - Watford
Layun turned in a stellar Apertua 2014 campaign, during which he won the title with Club America and turned this victory into a 5 year deal with Granada in the Spanish Primera Division. Currently on loan to Watford, Layun has the potential to be one of the best wingbacks in Mexico's history. He is really, really, ridiculously fast and, at 26-years-old, he is about to enter his prime. Barring injury, he will be bombing down Mexico's left side for the next 6 years, and, if we were betting men, doing this a few more times, too:
7. Giovani dos Santos - Villarreal
Giovani dos Santos' career has been defined by high expectations and, unfortunately, failing to live up to them. He came out of Barcelona's highly touted La Masia academy, moved up from the club's B team to the first team, but never proved that he belonged at the top of the footballing world. He has since played for Tottenham, before being loaned out to Ipswich Town, Galatasaray, and Racing Santander before fully transferring to Mallorca. Now at Villarreal, dos Santos still has not entrenched himself in the starting XI. He is undoubtedly talented, but he has never managed to develop the kind of consistency that separates the best from the rest.
6. Andres Guardado - PSV
Guardado has started 17 of PSV's 24 league matches this year, and in doing so has helped his club rocket to 1st place in the Eredivisie, with a comfortable 14-point lead to boot. Guardado is a solid defensive midfielder, capable of playing both full- and wing-back. He has established a career with his ability to provide security in the middle and defensive third, but that doesn't mean he has never made us jump out of our seats in excitement.
5. Hector Herrera - F.C. Porto
With 2 goals and 3 assists in only 6 appearances, Herrera has definitely made the most of his time at FC Porto. That is a good sign, because at 24 years old, he still has plenty of time to improve. All things considered, we have every reason to expect Herrera to be in the form of his life heading into Russia 2018. As such, Mexican fans have every reason to be excited about this young man. He has proven he can be a decisive player in one of the top 5 leagues in the world, and he's only going to get better.
4. Jesus Manuel Corona - F.C. Twente
This kid might be the most fun to watch on this entire list. Sure, a lot of that has to do with the fact that he plays in the Dutch Eredivisie, a league that is arguably the most open and attack-minded in the world; but having space is one thing, being effective in it is quite another altogether. Known as "El Tecatico, " Corona has 7 goals and 4 assists in 20 appearances. That's out of 24 total games this season, by the way, and goes a long way to show the trust he has won at Twente, despite only being 22 years old.
3. Hector Moreno - Espanyol
Moreno is arguably the best defender that Mexico has. He started all four games at this past summer's World Cup, and would have played every single minute had he not suffered a fractured tibia during Mexico's knockout match against the Netherlands. Assuming he recovers fully from that injury, you can bet Moreno will feature for El Tri at both the Gold Cup and Copa America.