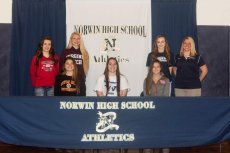 Six Norwin girls soccer players signed their letters of intent to play in college next season. Standings (from left to right) are Abbey Tarosky (St. Francis), Jessica Boytim (Virginia Tech), Marley Smith (Duquesne) and Norwin girls soccer coach Lauren Karcher. Seated are Taylor Crupie (Seton Hill), Nikki Grzebyk (Westminster) and Micayla Livingston (Dayton).
Photo by Nathan Smith | Tribune-Review
Top high school sports
• Hempfield's Fox chasing school pole vault record, also excelling in javelin
Email Newsletters
After a dominating season that saw 24 wins and a WPIAL title, it shouldn't come as a surprise that the Norwin girls soccer team was deep with college-bound talent.
Six players finalized their college commitments last week on national signing day, including four moving on to the NCAA Division I level.
Defender Marley Smith will continue playing at Duquesne. Smith said she also looked at Akron and Kent State but the Dukes were always No. 1 on her list.
"I wanted to stay close to home, " Smith said. "(Duquesne) has a physical therapy program that you can go through in six years. I also knew I could get some playing time early."
Smith also plays for the Beadling Soccer Club.
Duquesne is a member of the Atlantic 10 conference. The Dukes went 12-10-1 this past season, winning the Atlantic 10 tournament title and reaching the NCAA tournament for the first time.
"I worked so hard my entire life and this is the highest level you can get to, " Smith said. "It is important to me that I got this far. I know I have to get faster and strong for college. The girls are going to be bigger so I will need to be able to take their hits."
Forward Abbey Tarosky will continue playing at St. Francis. Tarosky was also considering Lock Haven.
"It was the perfect fit, " Tarosky said. "They had what I wanted to study, and it is Division I. I also got a nice scholarship."
Tarosky will study occupational therapy. She also plays for the Allegheny Force Football Club and the Barbarian Futsal Club.
"When I started club soccer around U14, my coaches started to push me, " Tarosky said. "I definitely wanted to go out there and be seen. I knew I didn't want to stop."
St. Francis is a member of the Northeast Conference. The team went 4-13-2 this past season and fell in the opening round of the NEC tournament. The Red Flash won the regular season title from 2011 to 2013 and the conference tournament title in 2010 and 2013.
"I would like to work on my strength at the next level, " Tarosky said. "I feel like I am a hard worker and am always improving."
Forward Micayla Livingston signed with Dayton. She also considered Virginia Commonwealth, Rutgers and Providence.
"When I visited Dayton, I thought it was pretty cool that the field was in the middle of campus, " Livingston said. "They are so good with academics and athletics. It gave me a homey feel."
Livingston plays for the Riverhounds Development Academy and Barbarians Futsal Club. She said she always wanted to play in college but her drive for it got higher once she got into high school.
"When freshman year started, it hit me that I had to work ever harder to get where I wanted to be, " said Livingston, who said she is considering studying physical therapy. "Technically I got a lot better. It was all the things you don't notice until they are changed."
Dayton is a member of the Atlantic 10 conference. The Flyers went 10-9-1 this past season. Coach Mike Tucker has coached the team for 22 seasons and led the team to the NCAA tournament nine times.