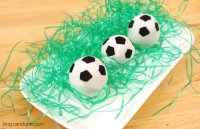 Total time
Author: Sarah @ Miss CandiQuik
Serves: 40
Ingredients
2 (16 oz.) packages Vanilla CANDIQUIK
1 box carrot cake mix (or your choice of flavor, plus ingredients required for cake)
½ cup cream cheese frosting
Black Americolor Gourmet Writer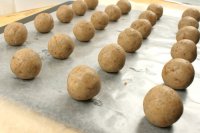 Instructions
Prepare cake mix as directed on box.
Crumble cake into a large bowl and mix thoroughly with ½ cup cream cheese frosting (it may be easier to use hands to mix together).
Chill mixture for approximately 2 hours in the refrigerator (you can speed this up by placing in the freezer).
On a wax lined baking sheet, roll mixture into 1 inch balls.
Melt 1 package of Vanilla CANDIQUIK at a time, according to the directions on the package.
Dip each cake ball into the CANDIQUIK and coat completely. Allow excess coating to drip off and place on a wax-lined baking sheet. (I usally keep about ten cake balls out at a time to dip and store the remaining ones in the fridge until ready to use.)
Once completely dry, use the edible marker to draw on the soccer ball design.