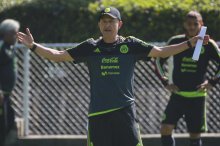 Juan Carlos Osorio will take charge of Mexico for the first time against El Salvador on Friday. Photo: Getty Images
The memories may still be fresh, but Mexico will put its thrilling victory over the United States firmly in the rearview mirror over the next week. Not only will El Tri be beginning its campaign to try and qualify for the 2018 World Cup, but it will be doing so with a new coach. The man who masterminded Mexico's victory in the Confederations Cup playoff, Ricardo Ferretti, has departed the stage after his interim tenure came to a glorious end, with the responsibility to guide the team to Russia resting with Juan Carlos Osorio.
A glance at Mexico's last attempt to make it to a World Cup provides a warning for just how challenging the task awaiting the Colombia promises to be. This time four years ago José Manuel "Chepo" de la Torre was the man leading the team, fresh from lifting the 2011 Gold Cup. But by the time Mexico finally clinched its place in Brazil, he along with three other coaches had come and gone. It was an arduous campaign that ended with Mexico only scraping into a playoff.
Again Mexico are the kings of Concacaf, but that is no guarantee of a smooth ride to Russia. Although, the drama, if it does arrive, is likely to come in the next stage of qualifying - the Hexagonal - Osorio will be aware of the importance of making a positive start when his reign gets underway.
Mexico is in Group A of the penultimate round of Concacaf qualifying, competing for two berths alongside El Salvador, Canada and Honduras. There is reason to be confident of progressing without undue trouble, with none of their three opponents having made it past the group stage of the Gold Cup this summer, which El Tri went onto win.
First up comes a meeting with El Savador at the famed Estadio Azteca on Friday, before a trip to Honduras next Tuesday. El Salvador's form or history offers little to inspire fear in Osorio. La Selecta is currently down at a lowly 94th in the FIFA rankings, and its only victories this year have come over Saint Kitts and Nevis and Curaçao. The last time the sides met, Mexico beat El Salvador 2-0 at home in qualifying for the 2014 World Cup.
Honduras promises to be more of a challenge, especially in San Pedro Sula. Two years ago, Mexico lost at home to the same opposition in one of the lowest points of its tumultuous qualifying campaign, while Honduras also enjoyed a victory over the United States in the same campaign.
For the dual challenge, Osorio has named a squad that is short on major surprises. The most noteworthy aspects of his first selection are the return of goalkeeper Guillermo Ochoa and the exclusion of Giovani dos Santos.
Ochoa has still to make a single league appearance for Malaga since joining the La Liga club in the summer of 2014, and was left out by Ferretti. Dos Santos was also initially overlooked by Ferretti, and although he was called up for the match with the U.S., he was forced to withdraw with an injury. Osorio pointed to Do Santos' ongoing injury issues as a reason for his exclusion, but also the form of his other forward options. The former Sao Paulo coach will be particularly encouraged by the recent performances of Javier "Chicharito" Hernández. The striker has scored eight goals in his last six games for new club Bayer Leverkusen.
As for new faces called in by the new coach, they are limited to Pumas duo Luis Fuentes and Alejandro Castro. Paul Aguilar will miss out on both games through injury.